Ресурс
Statement of the problem of designing a liquid rocket engine dual bell nozzle of the maximum thrust using the direct method of the calculus of variations
Ресурс
Дані репозиторія
Мініатюра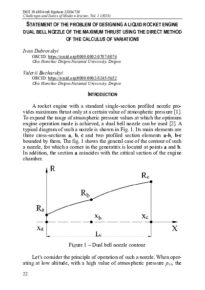 Кількість сторінок або сторінка
22
Метадані Dublin Core:
dc:contributor
Дніпровський національний університет імені Олеся Гончара
dc:creator
Dubrovskyi, I.; Bucharskyi, V.
dc:description
A rocket engine with a standard single-section profiled nozzle provides maximum thrust only at a certain value of atmospheric pressure [1]. To expand the range of atmospheric pressure values at which the optimum engine operation mode is achieved, a dual bell nozzle can be used [2]. A typical diagram of such a nozzle is shown in Fig. 1. Its main elements are three cross-sections a, b, c and two profiled section elements a-b, b-c bounded by them. The fig. 1 shows the general case of the contour of such a nozzle, for which a corner in the generatrix is located at points a and b. In addition, the section a coincides with the critical section of the engine chamber.
Let's consider the principle of operation of such a nozzle. When operating at low altitude, with a high value of atmospheric pressure pe1, the thrust is generated only by the first profiled section a-b. With an increase in flight altitude and a corresponding drop in atmospheric pressure to pe2 (pe1 > pe2), the flow of combustion products expands, begins to flow around the second profiled section and create additional thrust. Thus, an engine with a dual bell nozzle will generate more average flight time thrust than an engine with a single nozzle designed to operate at one of the atmospheric pressures pe1 or pe2.
Usually, the method of characteristics [3] is used for profiling a dual bell nozzle. However, it has the following disadvantages:
– the inability to profile the maximum thrust nozzle with explicit restrictions on its dimensions, weight, etc.;
– the requirement for the absence of shock waves in the flow of combustion products inside the nozzle.
As an alternative to the method of characteristics, this paper proposes to use the direct method of calculus of variations [4] for profiling a dual bell nozzle.
dc:rights
info:eu-repo/semantics/openAccess
dc:source
Challenges and Issues of Modern Science. Vol. 1
dc:subject
Aerospace vehicles
dc:title
Statement of the problem of designing a liquid rocket engine dual bell nozzle of the maximum thrust using the direct method of the calculus of variations